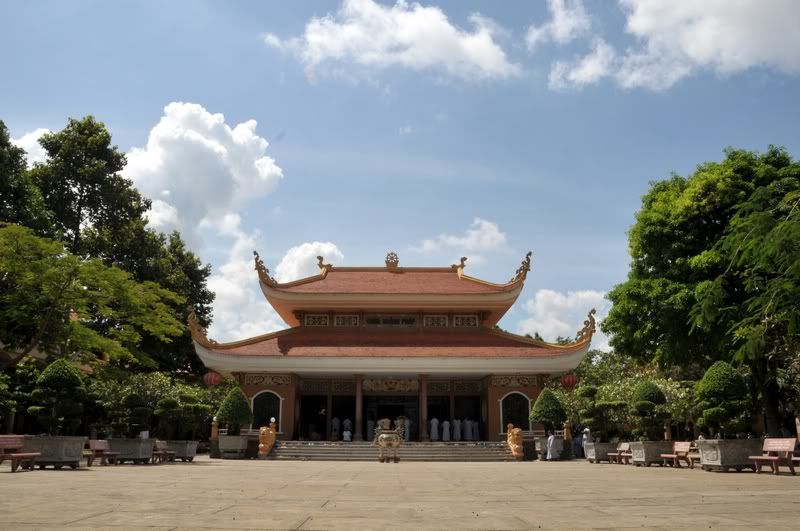 Hoang Phap Pagoda, Vietnam
http://www.chuahoangphap.com.vn/?lang=EN
Photo xuanhahepza.
HOANG PHAP PAGODA, Tan Hiep commune, Hoc Mon, HCM City, Vietnam Tel: 08.37130002.
| | |
| --- | --- |
| Địa chỉ | : Xã Tân Hiệp, Hóc Môn, Tp. Hồ Chí Minh, Việt Nam |
| Điện thoại | : +84. 8.37130 002 / +84.8.37133 827 |
| Email | : hopthu@chuahoangphap.com.vn |
| Website | : www.chuahoangphap.com.vn |
The Venerable Thích Chân Tính
Pagoda offers spiritual training and scholarly documents
By Huy Nguyen in HCMC


"How dignified and majestic Hoang Phap Monastery is

With red and curving tiled roof, it is the soul of nation

Evening bells and morning wooden bells sound melodiously

Sutra words and Dharma lecture lead beings to cultivation"



This is a poem in which a monk describes the Vietnamese cultural features depicted at Hoang Phap Pagoda in HCMC's Hoc Mon District's Tan Hiep Ward. Hoang Phap Pagoda was built in 1959 by Monk Ngo Chan Tu and was rebuilt in 1995 by Monk Thich Chan Tinh. Not influenced by Chinese architectural culture, the pagoda is pure Vietnamese style, from the architecture to the red tiled roof to the name to the parallel sentences in the modern Vietnamese language.



In 2000, about 3,000 followers descended upon the pagoda to study Buddhism and learn how to lead a meaningful life. Since then, Hoang Phap has become one of the most famous pagodas in Vietnam. Activities of the pagoda have set Vietnamese records. The pagoda had the largest number of Buddhists in Vietnam in 2006 and made the country's biggest flower lantern to honor Buddha in 2007.



Hoang Phap runs training courses in the summer to teach children how to behave with their friends, relatives and neighbors and how to express their love and gratitude to their parents. The pagoda also organizes monthly courses for cancer victims and the vision-impaired which use the teachings of the Buddha to lead an optimistic life and to overcome misfortunes, said Monk Thich Chan Tinh.



The pagoda has about 200 volunteers. "Everyday, I ride my bicycle 15 kilometers from home to the pagoda to join activities with people. I like the tranquility and teaching of monks as it eases my epilepsy," said Nguyen Nhat Huu Toan, a volunteer of the pagoda.



Many pilgrims head to Hoang Phap to refresh their bustling daily life. Most monks here speak English so foreign tourists can understand more about Buddha and the charitable activities once they visit.
from : http://english.thesaigontimes.vn/Home/travel/culture/5164/
http://www.chuahoangphap.com.vn/
Buddhism in Vietnam : Van Duc Pagoda